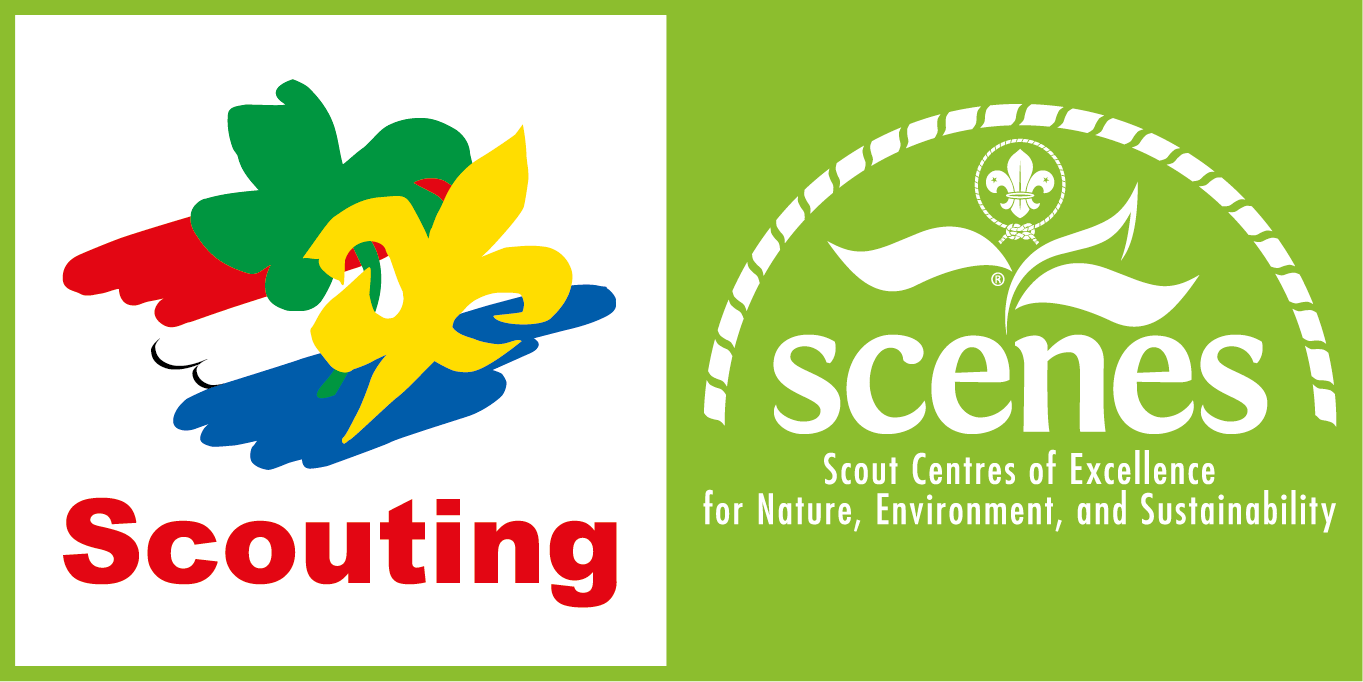 At Buitenzorg you can experience nature!
Our Scoutcenter is a place for scouts to enjoy and discover with respect for nature. Guest will notice this in various ways. Since 2019, our scoutcenter is part of a global network of scoutcenters that bear the SCENES approval mark.
SCENES stands for 'Scout Centers of Excellence for Nature, Environment and Sustainability' and is a certificate that is awarded by the World Organization of the Scout Movement (WOSM) to scout centers that develop and advertise environment friendly policies towards their guests. You can recognize these centers by the SCENES logo. Here you can find other scoutcenters in the Netherlands that are part of the SCENES network.
What does it mean to be a SCENES center?
It means that there is plenty to do and learn about the nature around our campsite. Are you in for a hike? Or are you curious to learn about edible plants? Have you discovered the tiny little bugs crawling around your tent? Check our Activity page on our website. Activities related to nature experiences are marked by a green oak-leaf.
We also offer activities that are inspired by United Nations' seventeen Sustainable Development Goals (SGDs) that are endorsed by WOSM. Explore a series of exciting environmental challenges to earn your recognition badges and become a member of the Earth Tribe! Our camp staff can tell you more.
How is Buitenzorg sustainable?
Guest may not directly notice, but our team of volunteers work throughout the year to preserve the forest. They take care of the shrubs and trees on our campsite, they plant nursery plants and trees and protect the vegetation with fences of natural materials. In this way we preserve the biodiversity at our campsite. And if you are lucky, you may be able to taste our special Buitenzorg honey!
With everything we do, we bear in mind our ecological footprint and try to minimize the distortion of the original forest. But mostly it is about the little things that we do, such as the use of environment friendly detergents for cleaning, waste separation, green energy and the use of sustainable building materials. We also support our guests to be wise with water, electricity and firewood. 
Being a partner of the Baarns Agreement on Climate, we've collaborated with over 70 local entrepreneurs to be sustainable by 2030. Furthermore, we are a member of the Goose Network, a collaboration between European Scout Centers. Through the Goose Network, we offer nature education activities which young scouts can learn about nature and about making 'green' choices. The Centers in the network learn from each other through joint programs and staff exchange.
Are you in for SCENES? See you soon at Buitenzorg!