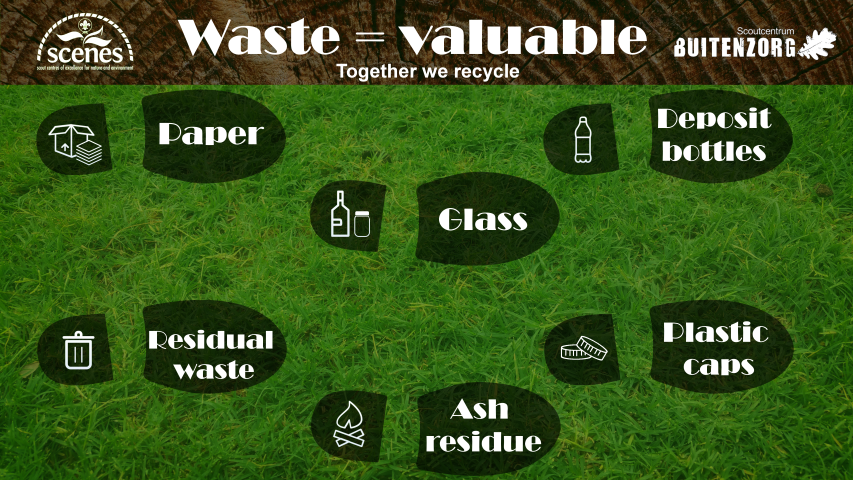 What to do with garbage?
Waste paper


Waste paper is an important raw material for new paper and cardboard. Recycling reduces CO2 emission that is associated with combustion of waste paper. Less raw materials will be needed for the production of new paper and cardboard. This saves trees and preserves our forest. Please collect paper waste in the container next to the handcart shed.
Glass


Glass is the perfect raw material for new glass! It can be recycled over and over without loss of quality. It can be disposed in the glass container together with the cap. Cleaning is not needed!
Household waste


Household waste that cannot be recycled by the waste-to-product company is transformed into Icopower pellets. Icopower pellets are high-energy sources. The energy that is released when burning Icopower pellets will be converted into electricity and heat, among others for cement ovens. Icopower pellets replace primary energy sources and contribute to reduced CO2 emission. The household waste container can be found next to the Owl's Nest.
Ash residue

Ash residue that remains after a campfire cannot be recycled. It is an end-product in the garbage chain and needs to be disposed. Throw away ashes in the designated container. Please be aware not to throw away burned wood and coals as these can be re-used for campfires. We collect this in a separate container that be found in the garbage street.
Returnable bottles


Very often returnable bottles are thrown away after a scouting camp. We collect these bottles separately. In order to save garbage, which is usually considered residual waste by the recycling company. The deposit is used for sponsoring Scenes projects such as the maintenance of the fruit trees in the Climate Wood on the campsite.
Plastic caps


By collecting plastic caps we contribute to the education of assistance dogs for blind people. A full training costs €5000,-. This includes food, medical treatments, instructors and professional support for the foster family. This amount equals 11 million plastic caps. Will you help us?